We've all seen them advertised and possibly even looked for them when purchasing a vehicle, but what do the crash star safety ratings really test? Or rather, who do they test for? Just because a vehicle has scored a 5-star on the US National Highway Traffic Safety Administration's (NHTSA) 5-Star Safety Ratings System, doesn't always mean that it's safe for you.
An article in The Washington Post points out recent changes on how the NHTSA conducts its test. One of the major alterations is that female test-dummies are now included in the crash tests that determine a car's safety rating; only an "average-sized male" was used previously. However, even with this major change, female test-dummies are only tested as a driver in the side pole crash test. The two remaining tests, the head-on collision test and the side barrier crash test, use male test-dummies in the driver's seat and female test-dummies as passengers. The "average-sized male" crash test dummies weigh in at 172 pounds and stand 5 ft. 9 inches tall. The NHTSA has included female test-dummies in federal compliance crash tests since 2003, but that test is only to ensure that vehicles fulfil the minimum safety regulations (such as air bag safety) and does not contribute to star-ratings.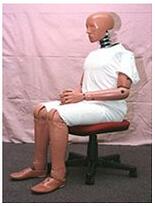 "Average-sized male" crash test dummy- http://www.nhtsa.gov/Research/Hybrid+III+50th+Percentile+Male
Including female-sized crash test dummies in the star safety rating tests are definitely a step in the right direction. The new testing system makes it more difficult for vehicles to earn a high star rating and therefore encourages car makers to continue making incremental changes to improve safety. Models from 2011 and newer are being tested using the new procedures, while previous models will maintain the original rating. As a result, vehicles tested in 2011 might have received a lower rating than they did in 2010, and many did; Safecar.gov publishes the results but does not provide a comparison since the testing criteria are different.
According to the article mentioned above, a 2011 study conducted by the University of Virginia's Center for Applied Biomechanics found that "…seat-belted female drivers in actual crashes had a 47 percent higher chance of serious injuries than belted male drivers in comparable collisions". In addition, studies show that fewer crash forces are tolerated by people with smaller body size. As an industry, should we then be demanding that star-ratings also include female-sized crash dummies as drivers in more tests and include children-sized dummies as passengers? What should we be doing to minimize the injuries that our customers might suffer in collisions?
Many consumers (including me) may have always assumed that these star ratings resulted from crash tests representing a wide-range of the population. Considering that the star safety rating is a large contributing factor in purchasing decisions, especially for women, consumers should be aware of exactly what the rating means. Is it our job as trusted industry experts to direct our customers to where they can find information about the actual safety level for their vehicle and all of those that may use it?
What do you do at your shop to educate customers? Do you agree with the current safety rating criteria?